Annyong!°°!° Miren, nuestros novas recibieron éste premio en los 1st Korean Music Copyright Association que se llevaron a cabo el 4 de Diciembre a las 7:30pm en el Estadio olímpico de Seoul; Olympic Hall.
Algunos de los artistas que asistieron al evento fueron:
Lee Seung Hwan, PSY, SHINee, Baek Ji Young, SUPERNOVA, HOMME, Jung Yeop, DJ DOC, Park Sang Chul, y otros compositores tales como Bang Si Hyuk y Jo Young Su.
Deleitense con éstas fotitos, si suben video luego luego se los publico n___n
-Edito- Waaa!! Bendito twitter que nos informa de todo :B Aquí el video de la premiación y de On the days that I miss you :D Kawaaaaii
VER VIDEO
Otros videos de FANCAM
On the days that I miss you
Otro video fancam, puro enfoque a Geonil *O* N-O-P-U-E-D-E S-E-R se ve Guapíiiisisisiisisisiiiimo!!!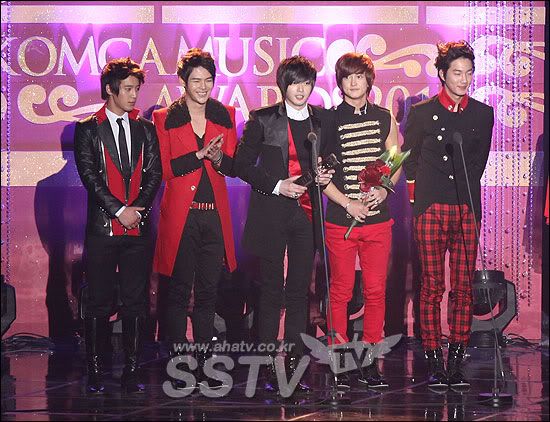 Más fotos aquí :B
El "Premio Hallyu", también recibió su primer dueño. xDD
Supernova.!!! fue el grupo de la suerte en recibir este año el "Premio Hallyu" por todo el esfuerzo en su carrera ,fuera de corea . El grupo comenzo su carrera en el extranjero,con 3 lanzamientos consecutivos en septiembre del 2009 . "Meki Love" y "Kimi dake wa hanasanai" se dieron a conocer en agosto pasado, y fueron seguidos con un álbum de larga duración, "4U", a principios de octubre. Aparte de sus primeros lanzamientos, todos sus singles y álbumes han conseguido lograr estar en cinco puntos más importantes del Oricon cuando apenas acaban de salir.


Créditos: BNTNews, SSTV, NEWSis, Newsen & adela1991. xchobix1, manarax y neriyama2 en yt